October is just around the corner and you know what that means – pumpkin patches, corn mazes, haunted houses and Halloween!
6th ANNUAL OKTOBERFEST AT TRAIL DUST TOWN 
Saturday, Oct. 6 from 3 p.m. to 10 p.m. at Trail Dust Town 6541 East Tanque Verde Road, Tucson
Admission – click http://www.traildusttown.com/our-events/special
Enjoy the best local beer from 1912 Brewing Company, Thunder Canyon Brewstillery, Sentinel Peak Brewing, Catalina Brewing Co, Crooked Tooth Brewing Co, and Uncle Bear's Brewery at Trail Dust Town. Dance to live polka music from The Bouncing Czechs, and choose from several German-inspired food options.
PUMPKIN FIESTA 
Saturday, Oct. 6 & Sunday, Oct. 7 from 10 a.m. to 3 p.m. at Sonoran Glass School 633 W. 18th Street Tucson 85701
Admission: http://www.sonoranglass.org/pumpkinfiesta/
It's back!!! The Pumpkin Fiesta returns to bring you fiery glass art experiences and a huge pumpkin patch of this year's hand crafted glass pumpkins. There are new surprises for this year too with an expanded body of fall-themed work on display including fused fall platters, candle holders, and more!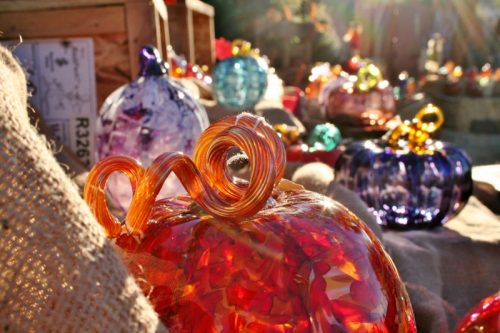 (Source: Sonoran Glass School)
TOHONO CHUL: 5th annual Chiles & Chocolate & Day of the Dead
Friday, Nov. 2 and Saturday, Nov. 3 from 9 a.m. to 4 p.m. daily at Tohono Chul Park at 7366 Paseo del Norte, Tucson 85704
Come celebrate your memories, and make new ones, with our fifth annual salute to the fiery chile and decadent chocolate. Dozens of food and craft vendors will fill the grounds and personal ofrendas (altars) from local artists and schools pay homage to the enduring borderland traditions of Día de los Muertos and a community altar invites guests to leave recuerdos (remembrances) of lost loved ones. There will be musical entertainment with a Latin beat from the Rafael Moreno Quartet, Entre Peruanos, Jovert Steel Drum Band, Mariachi Aztlán and Michael Salerno; Day of the Dead-themed face painting (and children's activities on Saturday) and the Garden Bistro will be serving a special harvest-themed farm to table dinner on Friday evening, Oct. 26!
For more information: https://tohonochulpark.org/chiles/
TUCSON BOTANICAL GARDENS: FEAST WITH THE DEARLY DEPARTED
Saturday, Oct. 27 from 5:30 p.m. to 8:30 p.m. at Tucson Botanical Gardens at 2150 North Alvernon Way, Tucson 85712
A traditional Day of the Dead shrine, or ofrenda, for guests to honor loved ones with personal offerings, and mementos, will be set up in the Nuestro Jardin throughout the month of October. Traditional dancing skeletons will also adorn garden pathways and add to the spirit of the event.
More information here: https://tucsonbotanical.org/event/feast-with-the-dearly-departed-2/

ORO VALLEY: HALLOWEEN SPOOKTACULAR 
Oct. 26 from 5 p.m. to 8 p.m. at the Oro Valley Community and Recreation Center at 10555 North La Canada Drive, Oro Valley 85737
Information: https://www.orovalleyaz.gov/community-center/calendar/halloween-spooktacular
HALLOWEEN IN THE WILD
Saturday, Oct. 20 from 5 p.m. to 7 p.m. at the International Wildlife Museum at 4800 W Gates Pass Road Tucson 85745
Spooktacular Halloween experience for the whole family with ghoulish games, creepy crafts, haunted house, and tricky treats.
More information here: https://www.thewildlifemuseum.org/calendar/
MARANA PUMPKIN PATCH & FARM FESTIVAL 
Oct. 6 through Oct. 30 Hours:  Monday – Thursday: 3 p.m. to 7 p.m. & Friday, Saturday & Sunday: 9 a.m. to 7 p.m.* at Post Farms at 14901 N. Wentz Road, Marana 85653
There's a little something for everyone – a pumpkin patch (you pick), corn maze (test your best time), jumping pillows, a petting zoo and so much more!
For more information on admission prices and more click here: http://maranapumpkinpatch.com/
(Source: Marana Pumpkin Patch)
APPLE ANNIE'S – CORN MAZE, FALL PUMPKIN CELEBRATION
Corn maze opens Saturday, Sept. 15 and runs through Oct. 31 from 9 a.m. to 4 p.m. (last entry) at Apple Annie's at 6405 W Williams Rd, Willcox 85643
Fall Pumpkin celebration:
September 22 & 23
September 29 & 30
October 6 & 7
October 13 & 14
October 20 & 21
October 27 & 28
Enjoy old-fashioned family fun picking your own pumpkins, fall vegetables at the Farm and apples at the Orchard. Pumpkins of all shapes, sizes and colors will be available for picking in our huge pumpkin patch. Already picked pumpkins will be available at the pumpkin stand. Don't miss out on Arizona's largest and absolutely amazing CORN MAZE; with 2 levels of difficulty it's perfect for the entire family! Tons of fun for the whole family!
For more information on pumpkin picking: http://www.appleannies.com/apples-annies-farm-pumpkin-pick-your-own.htm
For more information on the corn maze: http://www.appleannies.com/apples-annies-farm-corn-maze.htm

(Source: Apple Annie's)
(Source: Apple Annie's)
30th ANNUAL BUCKELEW FARM PUMPKIN FESTIVAL & CORN MAZE 
Oct 13, 14, 20, 21, 27, & 28 from 10 am to 5 pm at Buckelew Farms 17000 W. Ajo Way Tucson 85735
This is a fall event that appeals to the young and the young at heart.
Pick your own pumpkins after riding a tractor-drawn wagon ride into the pumpkin fields. – http://tucsonpumpkins.com/
Scare yourself silly by exploring a haunted cornfield that winds through 11 acres of corn at the farm. Dates, times and prices here: http://tucsonterrorinthecorn.com/

(Source: Buckelew Farms)
29th ANNUAL NIGHTFALL
Old Tucson at 201 South Kinney Road, Tucson 85735
Takes place from Sept. 28 to Oct. 31 during the following dates and times:
For information on ticket prices & discounts – http://nightfallaz.com/discounts/
For more Nightfall information – www.NightfallAZ.com
Sept. 21 to Oct. 31, hours vary at 1102 W Grant Rd. Tucson 85705
This experience is not for the faint of heart.
Days and hours vary, and for prices click here: http://slaughterhousetucson.com/
(Source: Slaughterhouse)
SIERRA VISTA
Haunted Asylum at The Cove – 2900 Martin Luther King Jr. Parkway, Sierra Vista 85635
As the sun dips below the horizon on All Hallows' Eve, maniacs, ghosts, and sinister psychiatrists will emerge at The Cove, transforming the City's aquatic facility into a haunted asylum!
More information: https://www.facebook.com/events/845838642473496/
11th Annual Halloween Fall Festival – Veterans Memorial Park – 3105 E Fry Blvd, Sierra Vista, AZ 85635
Located just a short stroll from the Haunted Asylum at The Cove, the 11th Annual Halloween Fall Festival will fill Veterans Memorial Park with family-friendly fun and games in a safe environment.
More information: https://www.facebook.com/events/2089820151029439/