MORMON LAKE, AZ (Arizona Highways TV) - In a lush setting of ponderosa pine forest, your outdoor adventure is about to begin. Take a self-guided ranger-style tour of this 300-acre property or quiet things down, fishing lakeside with the kids. A 2.5-hour drive northeast of Phoenix is all it takes to reach this mountain retreat.
When it's full, Mormon Lake is Arizona's largest natural lake – 7.5 miles long and 5 miles wide. At an elevation of 7,000 feet, summer temperatures here rarely hit 90 degrees. It's cool, refreshing, and even a little bit wild.
"I've sat on my back porch and counted up to 400 elk standing out in the lake bottom area out here," our tour guide Scott Gold said. He has lived and worked in this quiet town for nearly 20 years. And with a population of 50 to 5,000, he calls this place one of Arizona's best-kept secrets. "There's people that I've been on airplanes with, traveling cross country, they say, 'Oh, I've been to Mormon Lake,' but yet there's people in Flagstaff that don't know anything about it."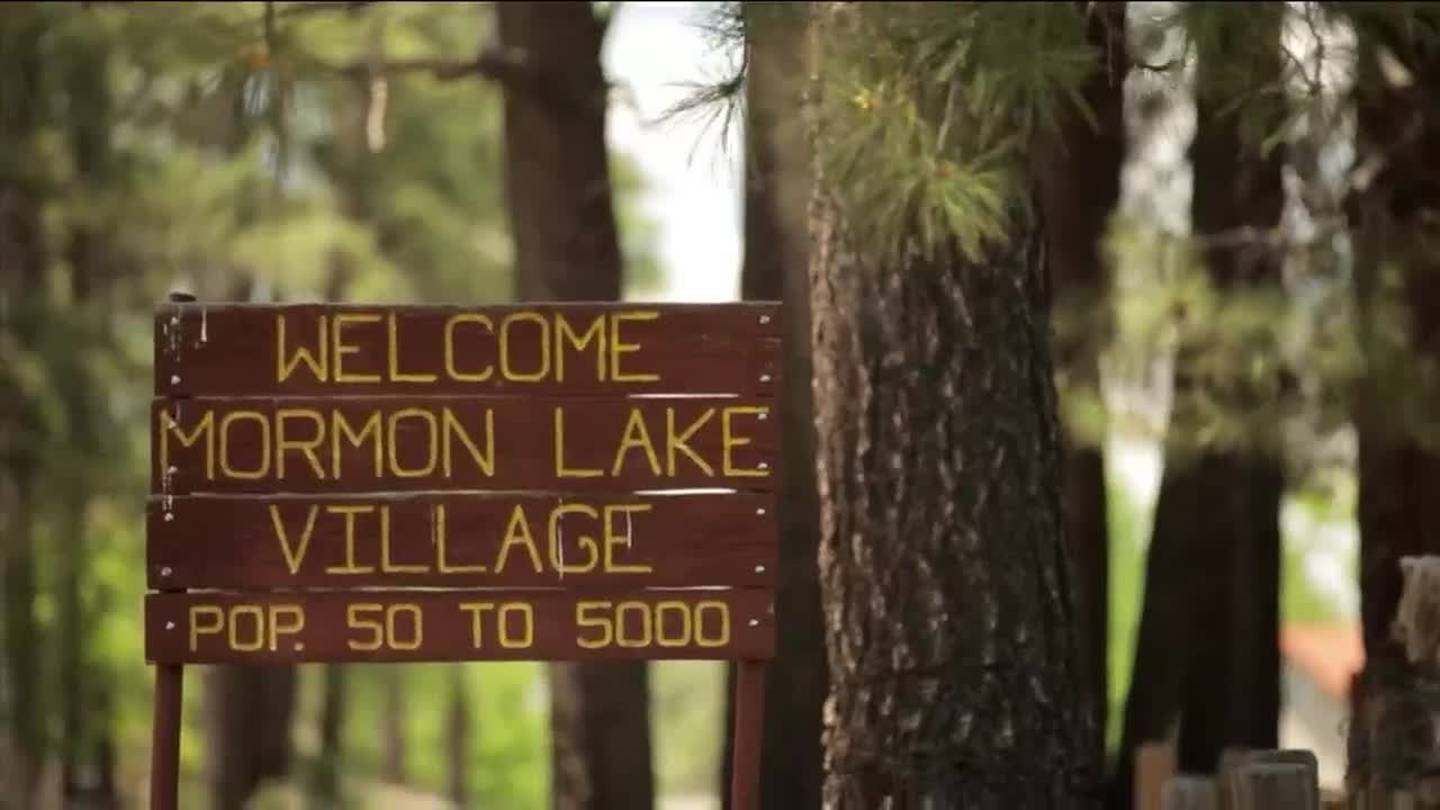 So, where exactly is the lake?
"Of course, everybody asks that question," Gold said. Mormon Lake is surrounded by several other natural lakes, and while it's the largest, it's usually extremely shallow – even dry – in some areas. "We have to have adequate snowfall because it's fed completely on runoff," Gold explained. But that's not the only reason. "It's very shallow so it evaporates easily."
Upper Lake Mary

Popular with power boaters and water skiers
Known for northern pike and yellow bass

Ashurst Lake

Always stocked with rainbow and brook trout

Kinnikinick Lake

Trout fishing
Antelope watching
Even if Mormon Lake is dry, visitors still flock to the area, especially in mid-May. That's the peak season for the Mormon Lake Lodge, which has been the town's cornerstone for years. You'll find a saloon, a country store, and family-size comforts of home.
"We have everything from small rooms, small motel-type rooms all the way up to large, family-style cabins that will sleep 12 people, with full kitchens, game tables, television, satellite, the whole works," Gold said. The works includes enjoying the great outdoors without ever having to rough it.
Mormon Lake Lodge – A destination since 1924
Mormon Lake Lodge became a destination in 1924, in the heyday of logging and ranching. As the story goes, a Chandler man built the lodge, called it "Tumblers," and turned it into a summer getaway for his friends and family.
"The community kind of was built back in the late teens and the early 20s," Gold said, picking up the story. "Back then, they didn't have any air conditioning per se in Phoenix. So, they would send their wives and children up to spend the summer at Mormon Lake, and they'd have all these little cabins. So, it was very usual to come to town and see nothing but women and children."
Seriously good fireside steaks
"It's always had a history of pride in great meals," Gold said of the lodge. "You know, that country-large portions, and a steakhouse, of course. And we've tried to keep that reputation intact."
"We're one of the few, well, one of the oldest open mesquite steakhouse pits in the area still in existence," Gold continued. "We actually cook our steaks on real mesquite wood, which gives it a real unique flavor, and it's done on a big open pit with a fire. The area around the pit can get to around 150 degrees; you gotta be pretty durable to deal with that."
Is it worth the drive? Oh, yeah. "I have people that fly over to Phoenix from California to drive up here and spend the weekend and get a steak dinner."
See the sites from a saddle
Horseback riding is one of the most popular activities at Mormon Lake. Whether it's pony rides or half-day treks, it's a fantastic way to explore 20 miles of trails set against 300 acres of pristine forest. It's an adventure for all ages. "Most of the people that we take are people who have never ridden before," said Eddie Pisciotta of High Mountain Trail Rides. "They get out there and sometimes they've never seen a horse [close up]; they can be nervous. Basically, we pick the horses out and match them to their personality and experience level."
"Every time we put someone on a horse, we tell them how to steer. We tell them how to put their feet. We keep an eye on you the entire time," he continued. "We take them out on a guided trail ride, and we have good, friendly wranglers that take care of them and make sure they're calm and confident the entire time."
Once you've settled into the saddle, it's time to enjoy the views. They can't be beat.
"It's a nice pretty area here in the pine trees. Lots of pine trees. Lots of oak trees. It's a nice, enjoyable way to spend the afternoon," Pisciotta said. "When they're done, most of the time they feel like they're an expert and they had a great time. We'll make the most scared person come back with a smile on their face -- every time."
There are bison in them thar hills
Visitors might find it curious that buffalo, otherwise known as the American bison, call this place home.
"In 1997, the owner said, 'You know, Scott, you need to have a couple buffalo out here,' and I thought he was joking," Gold recalled. "He came up the next year and he says, 'Where are the buffalo?' I said, 'Oh, you're serious.'"
Romeo and Juliet were the first ones at Mormon Lake, and the herd just grew from there -- 10 in all, with each one weighing up to 2,000 pounds. But don't let their docile nature fool you. These creatures can out jump and outrun almost any predator.
"A buffalo can jump 6 feet easily, if it wants to," Gold said. "They can run about 30 miles an hour. They don't pivot on their rear like a cow or cattle do; they pivot on their front, so they can do a 180 without breaking their stride. So, they're very fast for as big as they are."
Bison can live for about 28 years. So far, this pack has given Mormon Lake a new calf each season. They will always roam this home on the range.
"You never really can tame a buffalo," Gold said. "It's kinda like a grizzly bear. If you're feeding them and they're happy, like they are now, you're not gonna have to worry about them."
Team roping - "It's a lifestyle."
Team roping is becoming America's cowboy sport, but it's not new. "This style of roping has been around for years and years," ranch roper Kijla Hardesty said. The sport is based on the real-life profession of ranch ropers like Hardesty and Brad Randall. "It's more of a passion and an art than it is a job," Hardesty said. "It's a lifestyle."
They have been a team for about five years, running cattle for ranchers all over the state. They also compete together.
Hardesty and Randall said their primary goal as ranch ropers is to humanely catch calves who might be sick and in need of medicine. They also do branding, which they promised feels like a small blister on a steer's tough hide.
When they're working, they want to keep the cattle's stress level as low as they can. In the arena, however, team roping is a timed and somewhat hectic event.
A good horse is key. Not every horse is cut out for heading and heeling. Just like the riders have to work together, so do the horses. Neither Hardesty nor Randall would want to do anything different. "What's not to love about this right here?" Hardesty asked. "I mean you spend all day in the saddle. How can you argue that?"
Copyright 2022 KTVK/KPHO. All rights reserved.