TUCSON, Ariz. (KOLD News 13) - Tucson announced that its annual Fourth of July Fireworks Celebration is a go for 2022, weather permitting.
The city said the event is being sponsored by both Desert Diamond Casino and Entertainment Group, an enterprise of the Tohono O'odham Nation.
The fireworks show will be launched from "A" Mountain at 9 p.m. Monday, July 4.
Viewing The Show
The Tucson Convention Center Parking Lot B, the large lot on the west side of the TCC with access from Cushing Street and Granada Avenue, will be open for free viewing of the show beginning at 4 p.m. with food trucks on-site and open at 7 p.m. for business. For more information, including ADA-related accommodations at the above-listed location, call the Tucson Convention Center at 520-791-4101.
Additional viewing areas will be available with free access for viewing at the parking garage at 498 West Congress, and $5 per vehicle access at the Mercado parking lots A, B, and E accessible from Avenida del Convento and South Linda Avenue just west of I-10 and south of Congress Street.
The map below, provided by ParkTucson, identifies the parking areas and will be available online and on ParkTucson's and the city's social media accounts.
Road Closures
The map below shows how traffic in the area of "A" Mountain / Sentinel Peak Park will be routed and also identifies the closure of Mission Road between Star Pass Blvd. and Congress Street, Bella Vista Road, and the Eastbound and Westbound I-10 Frontage Roads.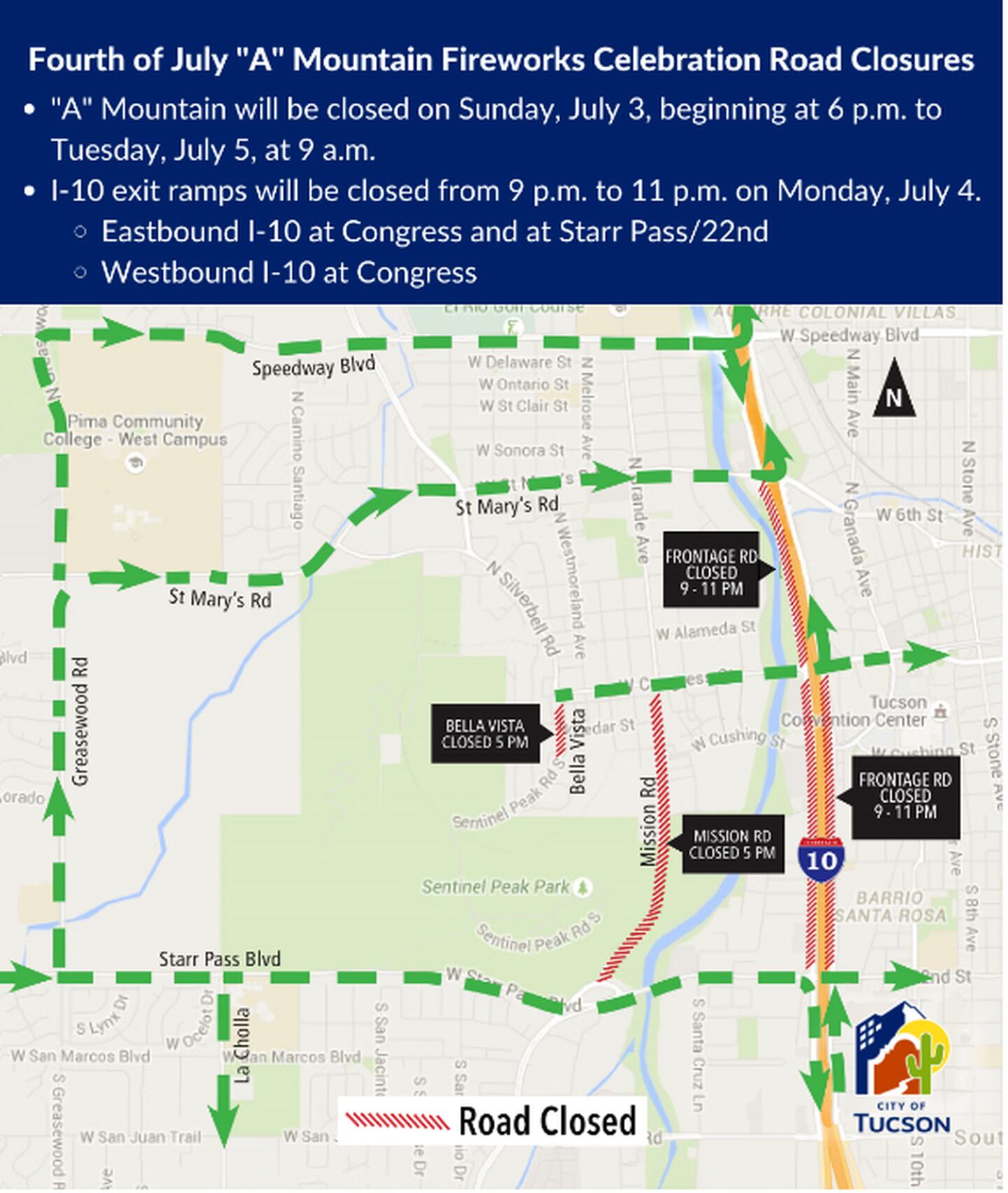 Transit Info
Transit remains free, and the Sun Link streetcar provides convenient access to the TCC at the Granada/Cushing Street stops and to the Mercado District at the Avenida del Convento/Congress Street and Cushing Street / Avenida del Convento stops.
Streetcar service will run for approximately 30 minutes following the conclusion of the fireworks show.
Sun Tran riders should note bus service to most routes will end before 9 p.m. on the holiday. Transit riders are encouraged to utilize the streetcar to ensure transportation following the fireworks show.
Safety Preparations & Readiness
The Tucson Fire Department and Tucson Water will be preparing the mountain and the surrounding area, as they have in previous years, by soaking down the vegetation in advance of the event on July 4 and will remain on-site during and after the show in order to minimize any fire risk.
The Tucson Police Department will be managing traffic control in the show area and all access at the base of "A" Mountain
Sentinel Peak Park and Road will close at 6 p.m. on Sunday, July 3, and will reopen on Tuesday, July 5, at 9 a.m.
Keeping Our Community Clean
Many families in our community have traditions of watching the fireworks from open lots or roadside right-of-way areas throughout the community. If this is your tradition, please remember to bring a garbage bag with you and take home any waste that your celebration creates, including legal fireworks debris, to place in your waste containers. If you are watching from any of our parks or an area where waste containers are provided, please use them. It respects our neighbors who may live nearby and helps to make our community the place we want to be.
---
Other Events In Southern Arizona
Below is a list of other Fourth of July events in southern Arizona. If we missed one, please email us at desk@kold.com
The Mount Lemmon Fourth of July parade is back for the first time in three years. The parade will begin at 12 p.m. Monday at the Mount Lemmon Realty driveway and proceed south on Sabino Canyon Parkway to the Mount Lemmon Water Districts offices. Spectators are asked to stay on the sides of the road, adults are urged to attend to small children for everyone's safety.
The Arts Express's Let Freedom Sing runs through Monday, July 4 and features several performances throughout those three days. Tickets can be bought HERE.
Sahuarita Stars and Stripes is set from 5-9 p.m. Monday, July 4 at Sahuarita Town Hall. The event includes fireworks, a laser show, live music and more. For more information, click HERE.
Copyright 2022 KOLD News 13. All rights reserved.
Copyright 2022 KOLD News 13. All rights reserved.