TUCSON, Ariz. (KOLD News 13) - All Souls Procession will kick off this weekend and here's everything you need to know if you're planning on partaking in this year's festivities.
The weekend-long event will start with Dance of the Dead on Friday, Nov. 4, and continue through Sunday, Nov. 6. The three-day music festival will take place at the MSA Annex, 267 South Avenida Del Convento. All proceeds support the All Souls Procession and tickets information can be found for each night HERE.
The Procession of Little Angels will take place on Saturday, Nov. 5, from 3 to 7 p.m. in Armory Park on 221 South Sixth Avenue. There, children and families will gather to paint wings, decorate sugar skulls, paint their faces and dress in costumes. Stories that Soar! will perform before and after the sunset procession. The event is free to participate.
The 33rd Annual All Souls Procession will take place on Sunday from 4 to 11 p.m. The event is free and will start near Speedway and Grande, ending at the MSA Annex. View the route map HERE.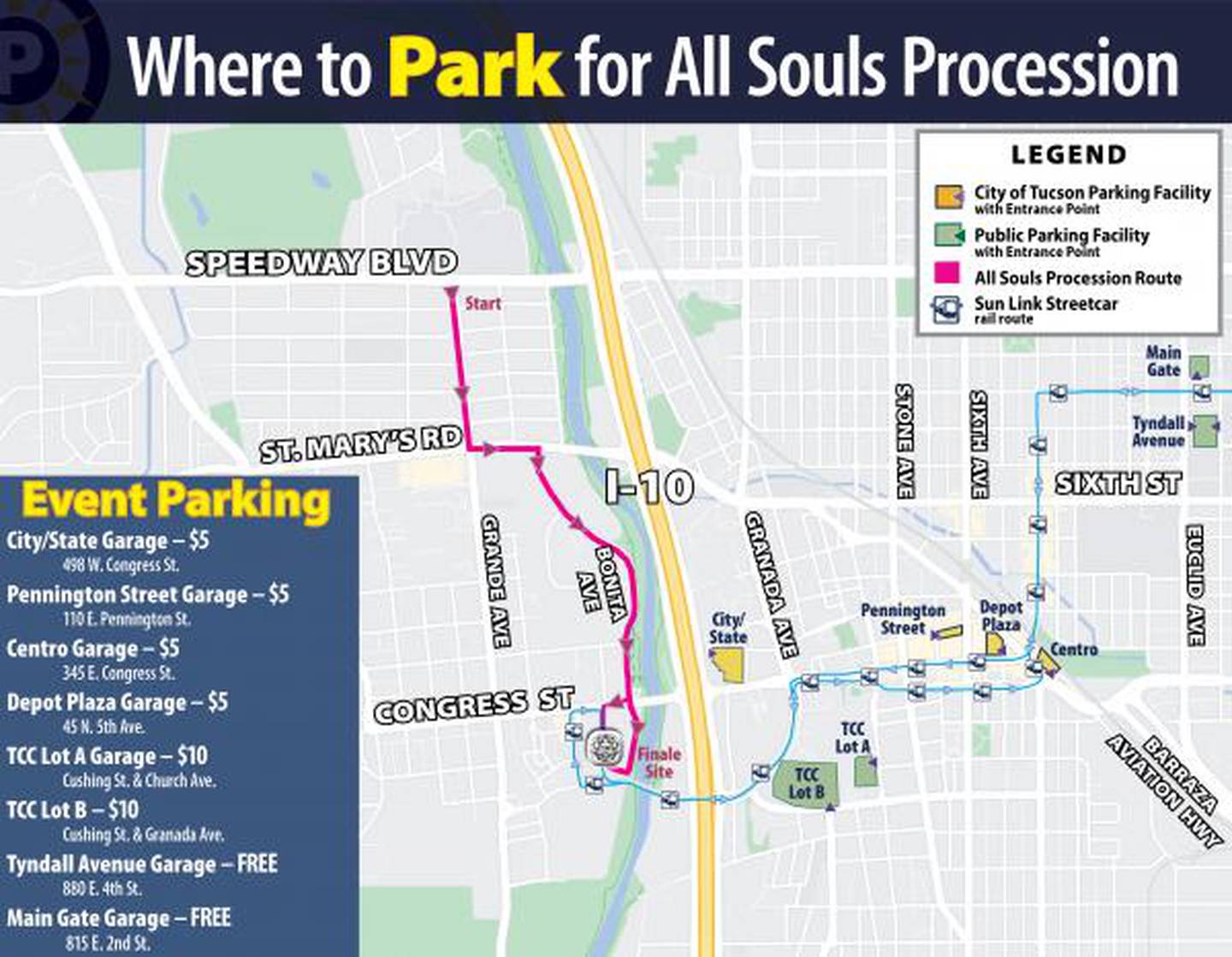 The city of Tucson will close the following streets Sunday in the Barrio Hollywood and Menlo Park neighborhoods:
Grande Avenue, between Speedway Boulevard and St. Mary's Road.
St. Mary's Road, between Grande Avenue and Riverside Drive.
Bonita Avenue, between St. Mary's Road and Congress Street.
Congress Street, between the I-10 eastbound Frontage Road and Grande Avenue.
Cushing Street, between Avenida del Palo Fierro and the I-10 eastbound Frontage Road
The closures are scheduled to be in place from 3 p.m. to midnight.
Due to the detour and anticipated high attendance, Sun Tran is providing free bus service to the event, between 3 to 7 p.m. Buses will pick up passengers at the Ronstadt Transit Center. Riders should board the "Route 22 Extension – All Souls" bus at the Route 22 bay located on Sixth Avenue, just outside the west wall of the Ronstadt Transit Center. Buses will drop off passengers just north of the procession starting point at Speedway Boulevard and Grande Avenue.
There are limited parking lot spots available at the gathering point and in surrounding neighborhoods. To learn more about parking options, click HERE.
Following the procession, participants can return to the downtown area by boarding the Sun Link streetcar at the Mercado District stop. Sun Link will extend service hours until 10:30 p.m. to ensure participants are able to return to their vehicles.
For more information about route detours, click HERE.
For more information on the All Souls Procession and to download the free mobile app, visit the website at allsoulsprocession.org.