A treasure trove of old Hollywood.  Starting May 17th, you have a chance to bid on items once owned by Old Tucson's former owner Bob Shelton. There are over 70 items for auction with the most valuable piece being John Wayne's Winchester, that was gifted to Shelton during the filming of 'Rio Lobo.' Artifacts from movies made at Old Tucson Studios and other Hollywood-related memorabilia are going up for auction on Friday, May 17 and bidding will end May 23.
Here are just a few of some of the other big items for sale: 
John Wayne's  mugs from 'McClintock' and 'El Dorado'
Charlton Heston and James Coburn Screen-Worn Wardrobe and Gun Rack from the movie The Last-Hard Man.
James Garner's Screen-Worn Hat from 'The New Maverick.'
Elizabeth Taylor's screen-worn skirt from 'Poker Alice.'
'Three Amigos' concept prints and poster. Including the concept art for El Guapo's Mission.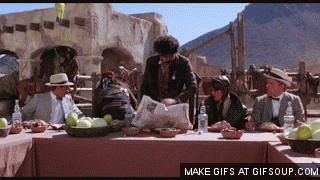 While you might not know his name, Adolf Zukor founded Paramount Pictures. There is a large archive offered of  his material from his estate including: correspondence, financial documents, photographs, award certificates, scrapbooks related to Zukor's international travels, and related ephemera.
Shelton collected the items since he founded the studios west of Tucson in 1958. Shelton's widow, Carolyn, said his dream was build a museum. "He always wanted to have a museum built in Tucson to house all of this stuff, but I know he's looking down on us saying we made the right decision," Carolyn Shelton said.
Bob Shelton, a land developer from Kansas City, headed west in 1959 looking for a place to start an "Old West"  tourist attraction and found what he was looking for after seeing the Old Tucson film set.  He formed the Old Tucson Company and took over the lease.
Shelton, in addition to carrying on an active movie and television filming business, opened the location to the public in 1960 as an Old West theme  attraction. Adding shows such as mock gunfights, rodeos, and saloon revues, along with gift shops and food outlets installed in the various buildings, the public attraction soon became a leading Arizona tourist destination. In the 1980's the attraction enjoyed the position of  2nd in Arizona visitation with Grand Canyon being #1.
The auction ends Thursday, May 23.